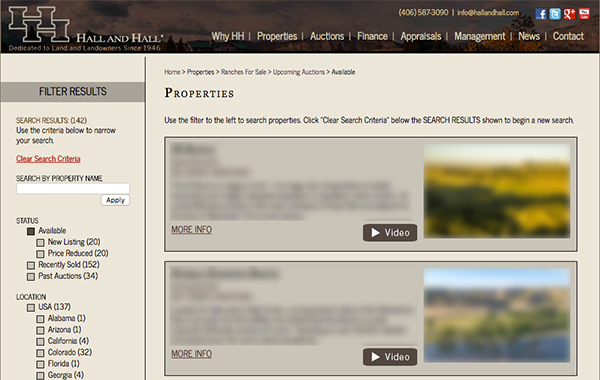 Tech

Drupal
Salesforce
Apache Solr
Varnish
Ansible
Ranch Rockstars
With their amazing 70 year track record, Hall & Hall is the best known name in ranch real estate in the United States. Our strategic partner Brickhouse Creative led this project, which involved replacing a custom CMS that was showing its age with a new Drupal-based one, along with a complete visual overhaul.
Please, no more data entry!
We implemented an import pipeline using the Drupal Migrate module to import all existing listing data, images, and videos from the prior CMS into the new Drupal site. This saved them weeks of data entry, as well as avoided potential errors during a manual entry process.
Facets, facets!
We implemented a faceted searching interface for their property catalog, to allow them to quickly create landing pages for SEO, as well as enabling visitors to quickly and easily drill down into their extensive listings. Faceted searching saves the user from having to fill out an extensive search form, without knowing their query will yield results.
Integrations, please!
We initially implemented a custom integration with their existing FileMmaker-based CRM tool, which handled lead capture and return-visitor authentication. We later consulted on a replacement for this tool, working with Hall & Hall to select a Salesforce-based replacement for FileMaker. We have also consulted extensively on Mailchimp integration, and ways to integrate their various data sources with Salesforce.