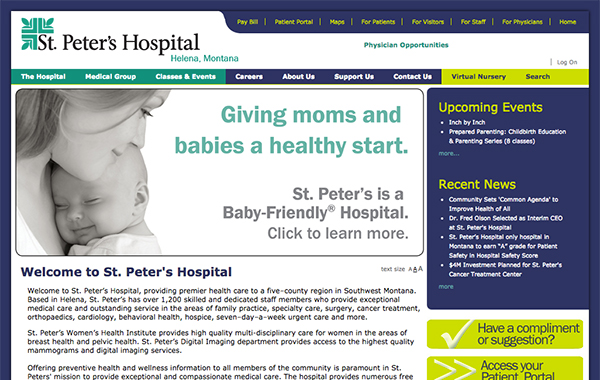 Tech

Visit
St. Peter's Hospital is the sole hospital in Montana's state capital, Helena. We initially assisted them with hosting infrastructure issues they were experiencing, and later we had the amazing opportunity to build them an entirely new website.
Many Departments
St. Pete's is a large operation, with over 1,200 staff members, as well as a number of outpatient clinics. They also provide other services, such as wellness screenings, and educational classes, which are provided directly to the consumer. We customized and created several tools to specifically meet various needs for scheduling, registration, and calendaring, to allow patients as much self-service access as possible.
Longevity
Our ideal client relationship is a long term one, where we can most effectively help the client solve technical and business problems with a long-term point of view. We've been fortunate to work with St. Pete's for nearly 7 years!